FEATURING
Chuck Collins
On Coming Home: A Pathway to Reducing Inequalities
Wednesday, May 24, 2017
Location: Asheville Masonic Temple, 80 Broadway Street, Asheville, NC 28801
Tickets: $12 event only, $42 with pre-event reception
5:30pm – Reception with Mr. Collins
6:30 – 8:00pm – Speak Your Peace 2017 with Chuck Collins
Book signing to follow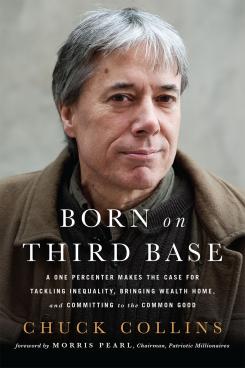 Chuck Collins, a storyteller, researcher, and campaigner who grew up in the wealthiest 1 percent, has spent the last 30 years working on issues of racial and economic justice and shifting the stuck national debate about wealth inequality, racial wealth divisions, and taxation.
His newest book is Born on Third Base: A One Percenter Makes the Case for Tackling Inequality, Bringing Wealth Home, and Committing to the Common Good.
The PBS Newshour called Born on Third Base "one of the five new books that makes you think about what it means to be human."  Come join the discussion about finding common ground to create stronger communities for everyone.

More more information, contact Laura Jeffords at laurahj@mediatewnc.org
     Imagine that you are about to walk out into the world with no car, no job, nowhere to live, and you don't know who – if anyone – is willing to help you get back on your feet?  What's it like for a woman – a mom, a daughter, a spouse – to walk into the world after 2 years, 10 years, or 20 years behind bars?
     Research shows that the day a person is released from prison is more stressful that the day they are sentenced. Thanks to an Opportunity Grant from the 
Community Foundation of Western North Carolina
, the Mediation Center has partnered with the Swannanoa Women's Correctional Center to help women plan for this difficult moment – and the months and years that follow.
     Re-Entry Mediation provides an opportunity for women within 6 months of release from prison to meet with the people they will need to depend on on the "outside".   The goals of Re-Entry Mediation are to increase hope for women close to release, provide a way for them to work with their support network to plan for their post-release needs, and to give an opportunity to repair their support system which increases their chances of success.Thanks to the excellent support of the Swannanoa Women's Correctional Center, mediators are meeting with women close to release each month to tell them about the program and enroll women who want to participate.  We are already working with more than a dozen women.
     This ongoing program means that incarcerated women – who will soon be our neighbors, co-workers, and community members – have the best chance possible for success in the future.  Thank you to all the volunteers who make this possible and to the Community Foundation of WNC for your support!
Did you know that for $25 you could buy TWO 10-piece buckets of fried chicken OR you could provide the staffing necessary to help resolve a conflict between 2 community members?
Just last week The Mediation Center has launched a campaign called $25 A-Peace. We're hoping to get 50 people to donate $25 and enter a drawing for the chance to win that chicken after all!
Click below to join the effort and add your $25 today!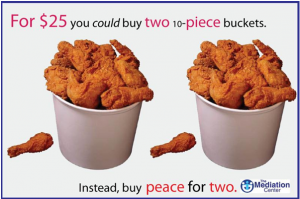 The Family Visitation Program (FVP) is in need of volunteers to supervise visits between visiting parents and their children!
Our next Volunteer Visit Monitor Training will take place on April 24, 25, and 26th! The training will take place each evening from 5:30-8:30pm. Training topics will include neutral documentation, safety, intervention, parent coaching, child abuse and neglect, and family separation. Please sign up for the training no later than Friday, April 20, 2012.
If you are interested in volunteering please read the Volunteer Visit Monitor job description and contact Program Director Jessie Rosenberg by e-mailing, faxing, or sending the FVP Volunteer Application. Jessie can also be contacted at 828-251-6089 x19 with any questions.
FVP provides supervised visitation and safe exchange services to families with a history of domestic violence, substance abuse, child abuse and neglect, mental health issues, and/or high-conflict parental situations. We are a safe and comfortable place for children to visit and form healthy relationships with their non-custodial parent(s). Custodial and non-custodial clients have no contact while using the service. Clients are referred by Family Court and the Department of Social Services.
Volunteer Visit Monitors supervise visits and exchanges. The primary goal of supervision is to ensure child safety and well-being. Volunteer Visit Monitors also have the opportunity to conduct 15 minute goal-setting sessions with visiting parents before and after each visit. Neutral observation notes are taken during all visits and exchanges.
Benefits of volunteering include:
Gaining valuable human service experience
Working one-on-one with parents and children
Convenient and flexible evening hours
Training provided in a warm, supportive environment
No previous experience necessary
Undergraduate & graduate internship opportunities available
Volunteers must be 21 years of age or older and willing to commit 1.5-3 hours per week for a minimum of 6 months. Our goal is to assign volunteers to families in recurring time slots to facilitate relationship building between families and volunteers. The Family Visitation Program also strives to support volunteers through bi-monthly peer supervision sessions and occasional after-work social gatherings.