The Family Visitation Program (FVP) is in need of volunteers to supervise visits between visiting parents and their children!
Our next Volunteer Visit Monitor Training will take place on April 24, 25, and 26th! The training will take place each evening from 5:30-8:30pm. Training topics will include neutral documentation, safety, intervention, parent coaching, child abuse and neglect, and family separation. Please sign up for the training no later than Friday, April 20, 2012.
If you are interested in volunteering please read the Volunteer Visit Monitor job description and contact Program Director Jessie Rosenberg by e-mailing, faxing, or sending the FVP Volunteer Application. Jessie can also be contacted at 828-251-6089 x19 with any questions.
FVP provides supervised visitation and safe exchange services to families with a history of domestic violence, substance abuse, child abuse and neglect, mental health issues, and/or high-conflict parental situations. We are a safe and comfortable place for children to visit and form healthy relationships with their non-custodial parent(s). Custodial and non-custodial clients have no contact while using the service. Clients are referred by Family Court and the Department of Social Services.
Volunteer Visit Monitors supervise visits and exchanges. The primary goal of supervision is to ensure child safety and well-being. Volunteer Visit Monitors also have the opportunity to conduct 15 minute goal-setting sessions with visiting parents before and after each visit. Neutral observation notes are taken during all visits and exchanges.
Benefits of volunteering include:
Gaining valuable human service experience
Working one-on-one with parents and children
Convenient and flexible evening hours
Training provided in a warm, supportive environment
No previous experience necessary
Undergraduate & graduate internship opportunities available
Volunteers must be 21 years of age or older and willing to commit 1.5-3 hours per week for a minimum of 6 months. Our goal is to assign volunteers to families in recurring time slots to facilitate relationship building between families and volunteers. The Family Visitation Program also strives to support volunteers through bi-monthly peer supervision sessions and occasional after-work social gatherings.
The Mediation Center has written a letter to the Asheville Citizen Times this week describing the crucial benefits of maintaining supervised visitation and safe exchange services for families in Buncombe County. This letter was prompted by the recent tragedy in Washington State that resulted in the deaths of two young boys. Click here to read our response.
As local school systems address the issue of bullying this week, Katie Levy was called upon to speak with WWNC radio station about how the Mediation Center's Peer Mediation Programs help empower young people to take a stand against bullying. Our youth program staff work regularly with middle and high school students to improve conflict resolution and communication skills. To learn more about the program and to support awareness about bullying in your local schools, click here to listen to the show!
Well done Katie – keep up the good work!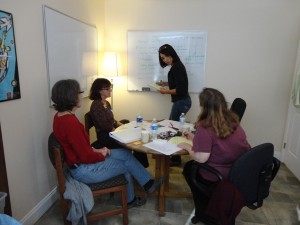 We ran a 3-day Community Mediation Training last week for 14 eager participants. They all gathered in the Buncombe County office in Asheville, along with staff Jan Woloson and Amanda Watkins and numerous current volunteer mediators, to learn and polish some conflict resolution skills as they learned the art of mediation. Together the participants not only learned about the process of mediation, but also had many opportunities to practice their new skills by role playing disputes and facilitating resolutions for their fellow trainees. Based on observations of smiling faces, lots of laughter, and rave reviews, I think it's safe to say this training was a great success!
Thanks to everyone involved, especially to our volunteer coaches and facilitators, for all your hard work putting this together!
The Henderson County Times ran an article in early December that prominently featured The Mediation Center's own Jan Woloson as a local source of wisdom on promoting peace among family members during the holidays. Find the article here: BlueRidgeNow.