The Mediation Center has written a letter to the Asheville Citizen Times this week describing the crucial benefits of maintaining supervised visitation and safe exchange services for families in Buncombe County. This letter was prompted by the recent tragedy in Washington State that resulted in the deaths of two young boys. Click here to read our response.
As local school systems address the issue of bullying this week, Katie Levy was called upon to speak with WWNC radio station about how the Mediation Center's Peer Mediation Programs help empower young people to take a stand against bullying. Our youth program staff work regularly with middle and high school students to improve conflict resolution and communication skills. To learn more about the program and to support awareness about bullying in your local schools, click here to listen to the show!
Well done Katie – keep up the good work!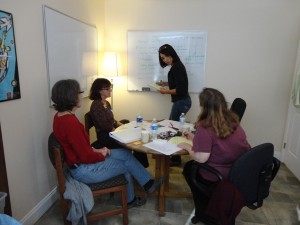 We ran a 3-day Community Mediation Training last week for 14 eager participants. They all gathered in the Buncombe County office in Asheville, along with staff Jan Woloson and Amanda Watkins and numerous current volunteer mediators, to learn and polish some conflict resolution skills as they learned the art of mediation. Together the participants not only learned about the process of mediation, but also had many opportunities to practice their new skills by role playing disputes and facilitating resolutions for their fellow trainees. Based on observations of smiling faces, lots of laughter, and rave reviews, I think it's safe to say this training was a great success!
Thanks to everyone involved, especially to our volunteer coaches and facilitators, for all your hard work putting this together!
The Henderson County Times ran an article in early December that prominently featured The Mediation Center's own Jan Woloson as a local source of wisdom on promoting peace among family members during the holidays. Find the article here: BlueRidgeNow.
Peace on Earth
The holiday season is a time to gather with loved ones, exchange gifts, indulge in sweets, and acknowledge our blessings.  At the Mediation Center we reflect on the many themes of the holiday season, one of our favorites is the hope for "Peace on Earth".  As mediators, we are passionate about creating peace where there was once conflict.  We also recognize that one doesn't have to be Mother Teresa, the Dalai Lama, or Martin Luther King Jr. to create peace on earth.  We know that each and every one of us plays a part in creating a peaceful community and world.
In 4000 BC, Lao Tzu wrote the following:
If there is to be peace in the world, there must be peace in nations.
If there is to be peace in nations, there must be peace in the cities.
If there is to be peace in cities, there must be peace between neighbors.
If there is to be peace between neighbors, there must be peace in the home.
If there is peace in the home, there must be peace in the heart.
Imagine how the world would be if there was peace in everyone's heart.  We would use our words to heal, not hurt. We  ould forgive instead of hate. We would give more than we take. We would see the goodness in all and in everything.
Creating peace in our hearts does not have to be difficult.  For each person creating peace may be different.  It may mean sitting quietly, praying, meditating, being with family, spending time in nature, or just becoming aware of our  surroundings.  For each person finding peace is an individual reflection of self serenity.
This holiday season, we ask you to reflect on the idea of having a peaceful heart. We would love to hear from you about what you do to create peace in your hearts. We will share your responses in our next newsletter. Please email your "pathways to peace" to Christy at christyb@mediatewnc.org.
This holiday season and always, we at the Mediation Center wish you deep peace in your heart, your homes, and your communities.  May the New Year be filled with abundant blessings for you and your loved ones.  We thank you for your support.
Peace,
The Mediation Center Staff