Services Offered
Para ver esta información en español haga clic aquí
Now accepting referrals for our new Henderson County location!
The Family Visitation Program believes that every child should have an opportunity to form positive, healthy relationships with both parents or caregivers, despite any previous conflicts. The Family Visitation Program (FVP) provides supervised visitation and safe exchange services to families with a history of domestic violence, substance abuse, child abuse or neglect, mental health concerns, or high-conflict custody disputes.
We are a child-focused service which provides a safe and comfortable place for parents and children to build positive relationships. Our goal is to assist in carrying out continued contact between parents and children in a safe environment. We are committed to helping families establish and maintain positive parenting relationships with their children. Services are designed to minimize the effects of conflict between parents, without putting children and families at risk for maltreatment, conflict, and violence.
---
Services offered:
Supervised Visitation
Safe Exchange
---
How do I get started?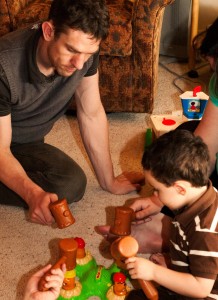 Contact the Family Visitation Program in your county to set up an intake appointment. Intake appointments take about 2 hours. During the intake appointment, staff will listen and answer questions. Intake appointments also include going over the program policies and procedures and touring the facility. Each parent or guardian attends intake separately. After both parents have completed intake, visits can begin. It generally takes up to 4 weeks for both parents to complete intake and start visits, so make your intake appointment as soon as you are ready. Intake forms can be viewed here.
---
You can submit your payment to the Family Visitation Program here:
---
Supervised Visitation and Safe Exchange are…
Safe – Offered in a secure environment with a security officer present
Affordable – Clients pay on a income-based sliding scale
Peaceful – Parents have no contact with each other while using services
Convenient – Visits are available weekday evenings after work. Exchanges are available evenings and Sunday afternoons.
Child friendly – Bright rooms are filled with toys, games, snacks, and art supplies for kids of all ages.
Respectful – Staff and volunteers understand that stress and conflict associated with your situation.
---
The Family Visitation Program provides:
One-on-one supervision (one family per visit monitor in a private room) for supervised visitation clients
Safe exchanges for parents with shared or joint custody
Neutral documentation of events during visits and exchanges
Factual reports to the court upon subpoena
A warm and comfortable atmosphere to have a positive visit or exchange with your child
Parent coaching, planning, and goal-setting to enhance your child's visit experience
The Family Visitation Program cannot:
Supervise visits outside of our facility
Make recommendations about a particular custody situation
Provide legal advice
Make assessments or statements about who is right and who is wrong in a situation
Testify about a parent's abilities
---
Take a look at our space!
The Mediation Center welcomes community members regardless of race, color, religion, national origin, family status, immigration status, disability, sexual orientation, or gender.