Supervised Visitation
Para ver esta información en español haga clic aquí
What is Supervised Visitation?
Supervised visitation allows non-custodial parents and their children to visit together in a safe, secure environment. Toys, games, snacks, and art supplies for kids of all ages are provided. There is a trained visit monitor in each visit who ensures safety and provides support to the visiting parent to help improve the quality of the visit. Custodial and non-custodial parents do not have contact with each other at any point while using this service.
---
Why use Supervised Visitation?
Children maintain a relationship with both parents during family transitions.
Children can look forward to visits without stress or worry.
Visit monitors maintain physical and emotional safety and prevent inappropriate conversations which place children in the middle.
Parents have no communication with each other while using the service; the Family Visitation Program makes all visit arrangements. Parents work with FVP instead of the other parent to arrange visits.
Non-custodial parents maintain a relationship with their child when they may not otherwise be able to see them.
Objective, neutral notes are taken during each visit.
---
What is Supportive Supervision?
The Family Visitation Program uses a supportive model of visit supervision.  Supportive Supervision was developed by the New York Society for the Prevention of Cruelty to Children (NYSPCC).   The goal is for the visit monitor to work collaboratively with the parent to improve the quality of the visit and the parent-child relationship. 15-minute sessions–before and after the visit–review the highlights and challenges of the visit and allow the parent to identify areas of focus or improvement.  It is an engaging, solution-focused model which treats all parents as parents, regardless of whether they currently have custody.  Visit monitors help parents plan for and evaluate the success of the visit.
---
Supportive supervision is designed to ensure safety, comfort, and success.
---
How much does Supervised Visitation cost?
The Family Visitation Program offers a sliding scale based on income (Please Click Here to View the Sliding Scale). Clients may apply for a fee reduction based on their household income. Families whose income does not appear on the sliding scale do not qualify for a fee reduction. Fee reductions will only be considered once all required income verification documentation has been received.
Visit fees for services are paid by the visiting parent, unless the court order states otherwise. Other fees may apply to either party for cancellations, document release, guests, etc.
Submit payment for your Supervised Visitation here:
How do I get started?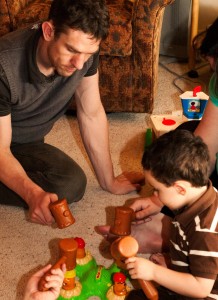 Contact the Family Visitation Program to set up an intake appointment. Intake appointments take about 2 hours. During the intake appointment, staff will listen and answer questions. Intake appointments also include going over the program policies and procedures and touring the facility. Each parent or guardian attends intake separately. After both parents have completed intake, visits can begin.  It generally takes up to 4 weeks for both parents to complete intake and start visits, so make your intake appointment as soon as you are ready.  Intake forms can be viewed here.
See what our Buncombe County facility looks like: Photos of the Family Visitation Program