Fantastic Community Mediation Training!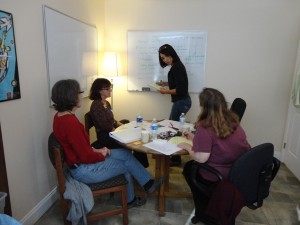 We ran a 3-day Community Mediation Training last week for 14 eager participants. They all gathered in the Buncombe County office in Asheville, along with staff Jan Woloson and Amanda Watkins and numerous current volunteer mediators, to learn and polish some conflict resolution skills as they learned the art of mediation. Together the participants not only learned about the process of mediation, but also had many opportunities to practice their new skills by role playing disputes and facilitating resolutions for their fellow trainees. Based on observations of smiling faces, lots of laughter, and rave reviews, I think it's safe to say this training was a great success!
Thanks to everyone involved, especially to our volunteer coaches and facilitators, for all your hard work putting this together!