Speak Your Peace 2017 with Chuck Collins

FEATURING
Chuck Collins
On Coming Home: A Pathway to Reducing Inequalities
Wednesday, May 24, 2017
Location: Asheville Masonic Temple, 80 Broadway Street, Asheville, NC 28801
Tickets: $12 event only
6:30 – 8:00pm – Speak Your Peace 2017 with Chuck Collins
Book signing to follow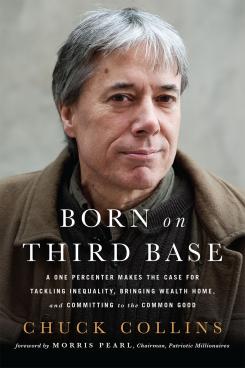 Chuck Collins, a storyteller, researcher, and campaigner who grew up in the wealthiest 1 percent, has spent the last 30 years working on issues of racial and economic justice and shifting the stuck national debate about wealth inequality, racial wealth divisions, and taxation.
His newest book is Born on Third Base: A One Percenter Makes the Case for Tackling Inequality, Bringing Wealth Home, and Committing to the Common Good.
The PBS Newshour called Born on Third Base "one of the five new books that makes you think about what it means to be human."  Come join the discussion about finding common ground to create stronger communities for everyone.

More more information, contact Laura Jeffords at laurahj@mediatewnc.org